Brady Asher, Chemistry/Physics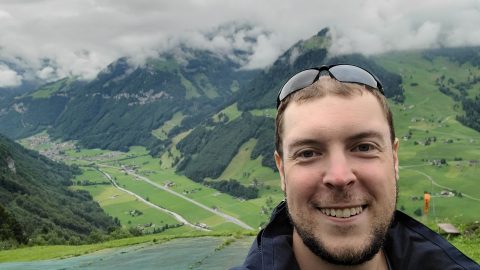 Brady Asher is coming to us from Wichita Adventist Christian Academy but is a College View Academy alumnus. So welcome home, Brady! Brady is married to Aubrey Asher and they co-parent their dog Daisy and 3 cats- Isaac, Newton, and Rose. Brady has a BS in secondary math education and a BA in mathematics with a minor in chemistry.  He enjoys board games, books and both he and Aubrey have a love for travel. This past summer they travelled to 8 different countries over 27 days.
Want to know a little bit more about Mr. Brady... keep reading.
What is the best piece of advice you've ever been given? God uses imperfect people in perfect ways

Complete this sentence: If I could invent a holiday, it would definitely involve: roller coasters

My favorite word in the English language is: interesting (a word he uses a lot)

What's the most inspiring part of your job? students being excited when they learn something they didn't understand before– the lightbulb moment

If I was a superhero, my superpower would be: stealing other superpowers 

  If you were a pasta shape, what would you be and why? farfalle because bowties are cool

What is the most important thing you learned in high school? the value of other cultures and mission work
Title:
High School Chemistry & Physics Teacher
Contact Information
Email: basher@cvak12.org
Phone: 402-483-1181 ext. 120 

"Guard your heart above all else, for it determines the course of your life."  Proverbs 4:23